$70 a Barrel for 1st Time in 3 Years
Posted on 11/01/2018
Oil topped $70 a barrel in London for the first time in three years as production cuts by OPEC and rising demand whittle away a global surplus.
Brent crude futures, used in the pricing of more than half the world's oil, rose as much as 1.2 percent to the highest since Dec. 4, 2014. Prices rallied after the longest stretch of declines in U.S. inventories during winter in a decade.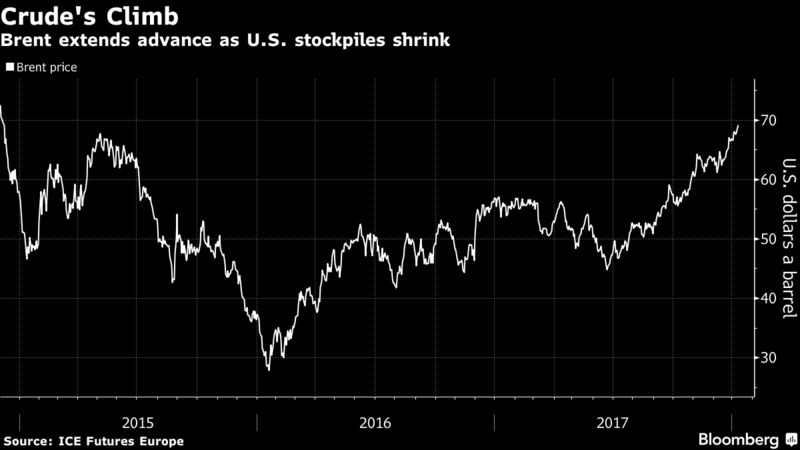 Oil's rally shows that the Organization of Petroleum Exporting Countries and its allies are succeeding in clearing the glut triggered by the growth of U.S. shale oil. Prices have also been supported by concerns that supply disruptions could stem from rising political tensions in OPEC members Iran and Venezuela.
"Pretty much all of the fundamental boxes are supportive of the current rally and a bit more," said Paul Horsnell, head of commodities research at Standard Chartered Plc in London.
Brent for March settlement advanced to $69.90 a barrel on the London-based ICE Futures Europe exchange at 11:28 Eastern time.
With the climb in crude, there are growing signs that OPEC could be falling into a trap it had sought to avoid. Rising prices are putting U.S. production on track to rival both Saudi Arabia and Russia, with output likely to exceed 10 million barrels a day as soon as next month and top 11 million before the end of 2019, according to Energy Information Administration forecasts.
"Seventy dollars is too much," said Eugen Weinberg, head of commodities research at Commerzbank AG in Frankfurt. "It's not completely unexpected, given the price momentum. But there will be a reaction in U.S. shale, and OPEC's strategy will backfire massively."
Iran has warned that the group risks overheating the market with oil at current levels. OPEC's members aren't keen on Brent prices above $60 a barrel because of the potential for more shale output, Iran's Oil Minister Bijan Namdar Zanganeh said, according to the ministry's news service Shana.
Source: https://www.bloomberg.com/news/articles/2018-01-11/oil-reaches-70-a-barrel-for-first-time-in-three-years